Traditional loose boxer shorts are often written off as yesterday's men's underwear fashion news. Marcuse boxer shorts have taken the classic cut and transformed them into something  a little more special.
Some men don't like restrictive underwear, and if you're one of them then Marcuse is well worth a look. They've created a shorter, more flattering cut with some super funky prints which should appeal to men who look for a little more style in their boxers.
Here's 3 of the Best Marcuse Boxers from their Current Collections
Floral Boxer Shorts
Deliciously low slung to show off those hips, and with a sexy short cut these loose fitting boxers are sure to please. Cool pure cotton ensures complete comfort, and an inner pouch at the front means that these boxers offer a more relaxed wearing experience without losing all support.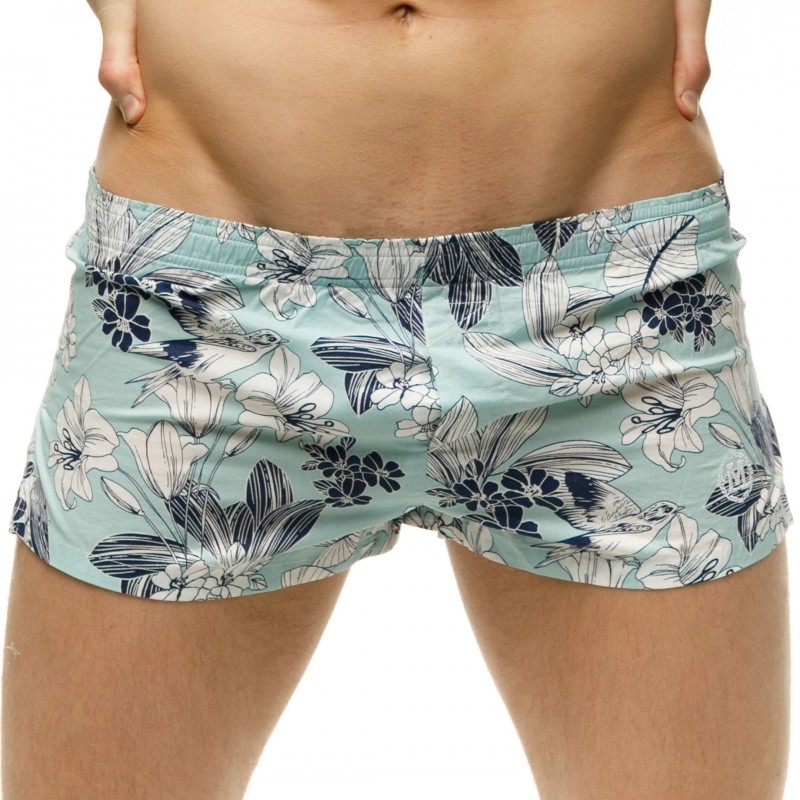 The front fly is purely decorative, and the Marcuse logo is carefully embroidered on the back and thigh using high quality threads. The rear features a tag detail, and the tropical hibiscus print will ensure you get a little bit of sunshine in your life every day!
Features:-
Traditional loose cut with pouch support.
Cut out detail on the sides elongates thighs.
100% cool cotton.
Low slung hipster cut.
---
Paisley Boxer Shorts
Bring a bit of rich luxury into your underwear drawer with these paisley print hipster boxers. This vibrant blue print combined with rich gold detailing will brighten up any dull day. Low slung cut means that you can wear these with low waist jeans without your underwear riding up over your waistband.
Features:-
Low slung hipster cut.
Cotton fabric to keep you cool all day long.
High legs for a flattering fit.
Quality Marcuse branding.
---
Checker Boxer Shorts
Cool ivory colour combines with crisp black checked pattern to create a clean cut boxer short look. Lovingly fashioned in 100% cotton, these boxers are sure to keep you cool on even the hottest summer day.
Featuring a cooling mesh inner pouch for much needed package support, you can wear these traditional undies and keep your junk from jiggling. A touch of luxury is added with the Marcuse branding to the front and rear in gold thread. A lightly elasticated waist creates an unrestrictive low slung fit which will appeal to men who like a more natural wear experience from their underwear.
Features:-
Loose fitting elasticated waist.
Leg detailing.
---
Shop Boxer Shorts by Marcuse
If you like what you see, why not check out the most recent additions from this men's underwear brand. Our underwear shopping resource is updated weekly with our latest underpant finds from our favourite men's underwear retailers. We review and categorise all products by hand.
Latest Marcuse Finds
Our hand curated shop resource is constantly updated with fresh underwear finds from our favourite online stores!